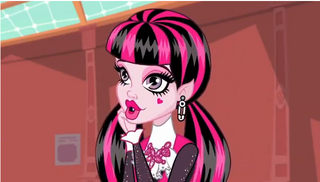 Draculaura is a character from an animated webshow,
Monster High.
She is the daughter of Dracula. But she's a vegetarian vampire, because she can't stand blood, otherwise she'll faint due to her haemophobia. She is best friends with Frankie Stein and Clawdeen Wolf.  She's dating Clawd Wolf. She is voiced by Debi Derryberry.
Personality
Edit
She's very sweet, friendly, easy to get along, but she can be childish. She's also emotional and cries very easily. She has intense haemophobia. Even a mere mention of blood will make her faint..
She is a student of Brockton High and is a friend of Terrence. She and others were being chased by Volf and a pack of Werewolves. She and her friends were saved by Terrence who just fought the werewolves and Volf.
Physical Appearance
Edit
She's 1600 years old with pink and black hair and purple eyes. She wears a pink vest with fishnet sleeves, white frilly shirt and pink shoe.
Appearance
Edit
Terrence: Halloween Thriller Night
She is the only vampire who doesn't drink blood and has great fear of it.
Draculaura is dating Clawdeen's brother, Clawd. Although this is a Romeo and Juliet kind of scenario, due to vampires and werewolves being enemies.
It is unknown whether or not in the Majestic Guardians universe, Draculaura is anyway related to Dracula of the Evil Organization. But this could DEFINITELY be the case. If this is so, Draculaura could be one of the cartoon heroes who is biologically related to a villain.