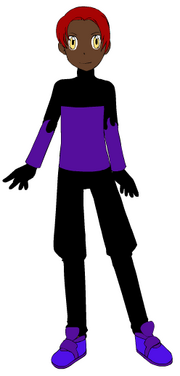 Enigma was a clone made by Ssielk Nav who hated him because of his power. He has the powers of Zexion and Vergil. He was once Zalder's friend in 1942, but zalder left after Abraham Erskine was killed. His heart turned cold and heartless when Zalder left him barely alive. He team up with Teknocles to get revenge on Zalder and the search for Supersoldier formula. He is voiced by Gary Sturgis
He was once a good friend of Zalder, but he become cold after Zalder left him alive in 1942.
in 1990, He returned alive and work together with Teknockles on the search for the Supersolider which the mad scientist has it. He soon kidnapped Robert just to Lure Zalder to
Physical Appearance
Edit
He has short dark red hair, bright yellow eyes. He wears a black and purple outfit.
Appearance
Edit