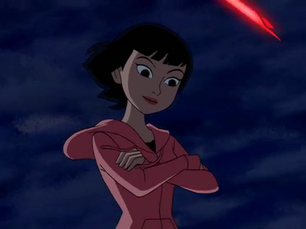 Julie Yamamoto is a youngest older of the Silva Family. She is adopted sister of Terrence Silva. she is voiced by Vyvan Pham.
She was part of the Silva Family during those years when she was young.
In 2009, She appeared in the Alpha Tennis court with her siblings, but they saw Terrence at the court and tried to talk him before he left. after Terrence and his new team, Majestic Guardians defeats Devatan, the Destroyer, they discussed Terrence about why didn't return back to Edenia.
In Injustice Regime, She and her siblings came to Terrence and felt a little angry because he's overprotective and not willing to need their help.
In Secret of the Morgan, She and the family joined the Majestic guardian to travel to find the morgan family, she soon get upset by Terrence's words. she accepted Terrence's apologized for out of turn,
In th Invasion of the Armada, she and the siblings were in the throne room where they witness some new members of the Majestic Guardians.
Physical appearance
Edit
She's an american asian girl with black bobcut hair, amber eyes. She wore a black shirt over a pink hoodie sweater, white skirt and shoe.
Appearance
Edit
Terrence 2: Majestic Guardians Unites (Debut)
Majestic Guardians Movie: Injustice Regime
Majestic Guardians Movie: Secret of the Morgan
Majestic Guardians: Invasion of The Armada (cameo)
Majestic Guardians Movie: Ultimate Brother Duel
She was once Ben's girlfriend, only she broke up with him during a phone call in Ben 10 Omniverse: Rule of Engagement. despite of this, She remain with Ben as his boyfriend.
She will become adopted Mother for Tracy Tennyson-Romanov in the future.
She's the only sweetest girl of the silva family.