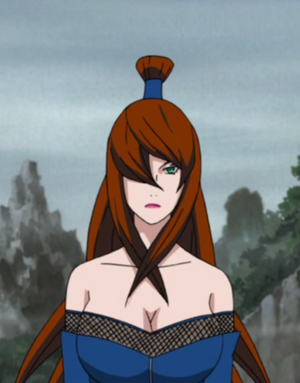 Mei Terumi is the Fifth Mizukage after a recent death of othe Fourth Mizukage, Yagura. She is voiced by Mary Elizabeth McGlynn.
She was summoned to the Kage Summit by Mifune to discuss what happening during Devatan's return.
She became a mentor for the All Star League Initiative after the meeting at the Kage Submit, she needs to gather a group of heroes with some help. She went to Karakura Town to find Asima.
Physical appearance
Edit
She has green eyes and auburn ankle length hair with top knot on her head. She wore a dark blue dress and gray high heel sandals.
Appearance
Edit
Terrence 3: Revival of the Dark Fairy (Debut)
All Star League: The Joining
She has two Kekki Genkai: Lava style and Vapor style.
She and Tsunade are the only two female kages in their respective village.Tsunade is the first female Hokage in the Hidden Leaf, while Mei is the first female in the Hidden Mist.
Her beauty (and perhaps her busty appearance) once attracted Terrence, Gekko, Po and Joey.