Mirage is major antagonist of Aladdin series. She was one aladdin's enemies other than Jafar.  SHE was once in love with fasir only they somehow endedt heir relationship.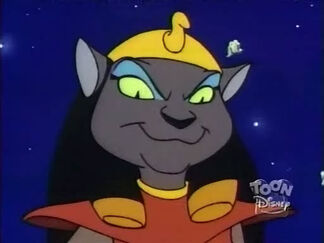 She joined the Evil Organization to help Madara Uchiha to revive Tezoth the evil One.
After the She agreed with Ocean Master, because The Armada could do betray them, just like the Reach betray the Light.
Phyiscal Appearance
Edit
She's an eygptian cat with green eyes, grey fur. She wore a red eygptian dress, headdress.
Appearance
Edit
Terrence 3: Revival of the Dark Fairy (Debut)
Majestic Guardians: Armada Invasion
She appeared more in Aladdin: the Series