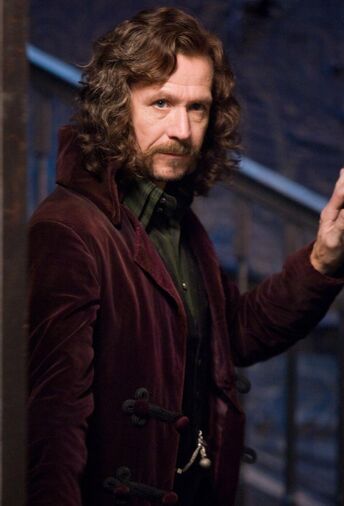 Sirius Black is a character from the
Harry Potter 
book and film series. He was part of Harry's Family, but soon framed by Wormtail and sent to Azkaban. years later, he escape to get revenge on Wormtail. He is portrayed by Gary Oldman.
He was part of the Silva Family along with Tsunade since the day of the Silva kids were born. But when Terrence was born, Dorien attacked the Silva household and killed them. After Dorien is defeated, he and Tsunade were given a request by Manfred to take care of Terrence and not tell him what happened before he left.
Personality
Edit
He is true-hearted person, brave and willingness to die to protect his families, he's very passionate.
Physical Appearance
Edit
He was tall and handsome man with fair skin Long lusorous black hair and grey eyes. He wore a brown coat and dark red vest, brown pants and shoe.
Appearances
Edit
Terrence: Halloween Thriller Night
His actor, Gary Oldman, is an accomplished Shakespearean actor, and is highly renowned for his classical acting styles and diversity. He is praised by the film critics, Roger Ebert and Peter Travers, as the greatest actor of all time. Among his popular roles, aside from Black himself, were Sid Vicious from Sid and Nancy, Dracula from Bram Stoker's Dracula,  Lord Shen from Kung Fu Panda 2,and Commisioner James Gordon from Christopher Nolan's Batman trilogy.