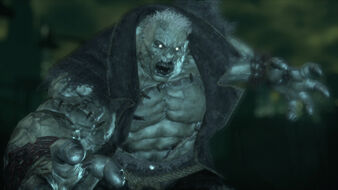 Cyrus Gold also known as Solomon Grundy in the DC. He was murdered by two criminal and sent his corpse to the swamp, but he somehow reanimated back to life with no memories. He is voiced by Fred Tatasciore
Tzekel Kan brought him to life after Soto, Devimon, Aziz and Edgar were destroyed. He fought Terrence and brutally beat the dragon halfa. He was going to squash Terrence, but Lady Tsunade came to save him. He was destroyed by Terrence and Tsunade.
Physical appearance
Edit
He has pale white skin, white eyes and grey hair. He wore a torn black open shirt, black pants.
Appearance
Edit
Terrence: Halloween Thriller
He appeared few shows like Superfriends, Justice League, Justice League Unlimited, The Batman and Batman: Brave and the Bold.
He was voiced by Fred Tatasciore, who also voice the Hulk in frequent Marvel animated shows.