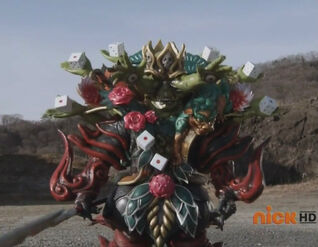 Trickster is a nighlok who can make people think about horror movies. He is voiced by John DiMaggio.
He was attacking the Trick or treaters by showing them horror movies, but he was soon stopped by the Majestic and defeated.
Physical Appearance
He has hands which has eyes mix components on his bodies like dices, roses and have a skull face.
Appearance
Edit
HE only appearedn in one story just like he appeared in Power Ranger Super Samurai halloween special.