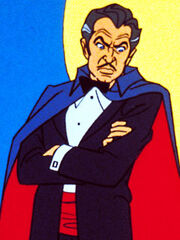 Vincent Van Ghoul is a wizard from the 13 Ghosts of Scooby Doo. He has an extended knowledge of supernatural magic. He was an ally of the Scooby gang after Shaggy and Scooby opened the Chest of Demons. He is voiced by late Vincent Price in The 13 Ghosts of Scooby Doo and by Maurice LaMarche in Scooby Doo: Mystery Incorporated.
Vincent has been watching Terrence on the crystal ball, he believed that Terrence was destined to stop a great evil from coming back to Earth.  He came to Brockton Hight to discuss with him how he abused his dragon halfa powers.
Personality
Edit
He's a very wizard and very mysterious man most of the time.
Physical appearance
Edit
He has black hair with grey streak. He sometime wears a black suit with a cape or blue robe with a cape.
He was voiced by Vincent Price even though he parodied himself in the series, before it was cancelled.
He appeared in the 13 Ghosts of Scooby Doo and Scooby Doo Mystery Incorporated.
Price's best known roles were Frederick Loren from a 1959 film House on Haunted Hill, his voice over in Michael Jackson's Thriller music video, Zig Zag from The Thief and the Cobbler, and Professor Ratigan from a Disney film, The Great Mouse Detective. He also did a voice over for Tim Burton's early short stop-motion film, Vincent, with the title being his namesake.